You are here
WORLD AIDS DAY CELEBRATIONS IN KAYUNGA DISTRICT
Wednesday, 04 December 2019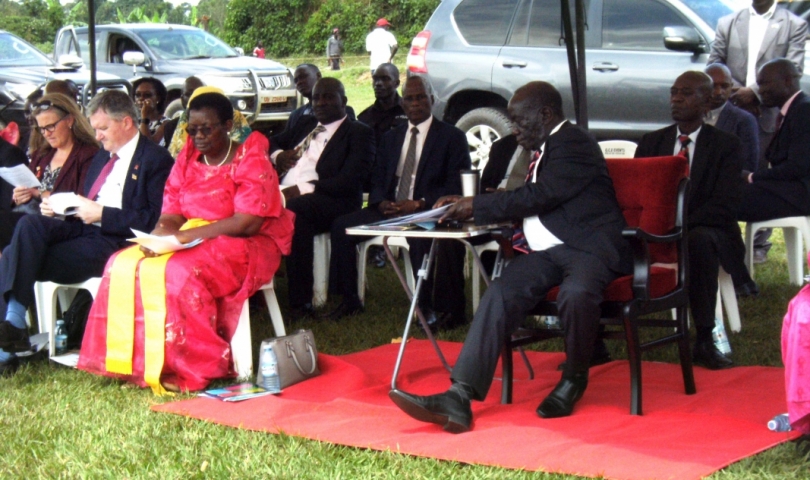 President Museveni has advised Ugandans to do away with cultural practices like widow inheritance and polygamy in order to reduce on the spread of HIV/AIDS.

"As a priority, our prevention efforts should focus on eliminating traditions and practices that promote HIV transmission such as widow inheritance, polygamy, wife- sharing and others which are high risk factors in HIV transmission," the President said.
His message was contained in a statement delivered by the Vice President, Mr. Edward Kiwanuka Ssekandi, yesterday in commemoration of the World AIDS Day at Busaana Sub-county headquarters in Kayunga District.
The event was marked under the theme, "Encouraging young people to champion the end of new HIV infections".
The President disclosed that poverty was one of the major causes of poverty in the country, which he said had led to gender-based violence and HIV infections.
He, however, noted that government is emphasizing access to universal education, and vocational and technical education.
"Once poverty is reduced, vulnerability to HIV would be reduced. We need to also emphasize behavioral change," the President said. He observed that ending Aids requires personal commitment as he called on Ugandans to be role models. He also called on all people to disseminate the right information on HIV/Aids on radios, TVs, and newspapers in a bid to end the scourge.
The Minister of Health, Ms Jane Ruth Aceng, said the vulnerability of young people is driven by engaging in high risk sexual behaviors and cross-generational sex, noting that championing young people in fighting HIV infection is important in ending new infections.
She said a total of 1.2 million people are on ART treatment out of 1.4 million people who are HIV positive in the country.
The chairperson of the Parliamentary Committee on HIV/AIDS, Ms Florence Namboozo, called upon Ugandans to live responsible lives, saying that it's the only way of reducing new HIV infections.
Ms Namboozo the Sironko District Woman MP, advised parents to sensitize their children about HIV prevention.
The Minister for the Presidency, Ms Esther Mbayo, said emphasis in HIV prevention is being directed to young people who constitute a big percentage of the population.
The District Chairperson, Mr. Sserwanga Tom, informed the gathering that as Kayunga district they have empowered the youth economically and socially , whereby the government has provided 1,530,000,000 to the youth in Kayunga District.
The function was also attended by Mr Richard Lutaaya, the son of late Philly Lutaaya, a musician who was the first Ugandan to publically declare that he had HIV/AIDS.
Updates

Opportunities

Partners