You are here
VICE PRESIDENT-HON JESCA ALUPO LAUNCHES DISBURSEMENT OF PDM REVOLVING FUNDS TO SACCOs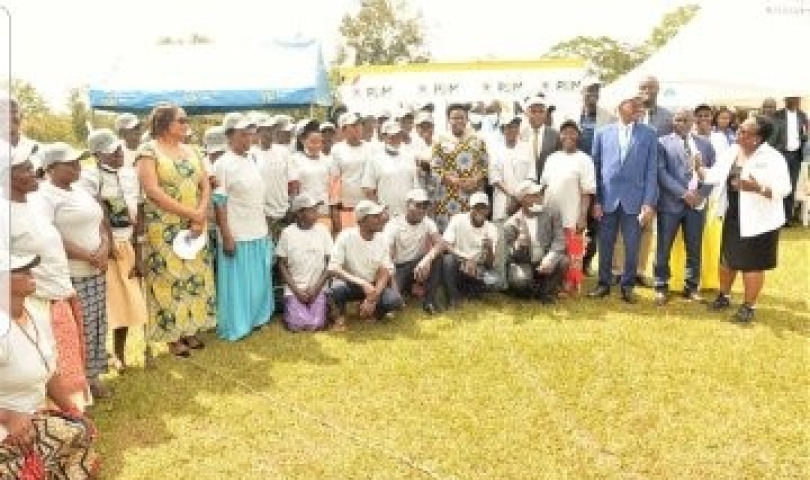 Vice President of Uganda, Hon.Jessica Alupo officiated at the national launch of the Parish Revolving funds pillarNo.3 (Financial inclusion) of PDM whereby she disbursed the first revolving fund of the PDM in Kayunga District on 14TH December, 2022 at Ntenjeru football ground.
She sent money directly to the mobile money accounts of 32 households from Bukujju parish in Kayunga Subcounty and 21 from Namagabi ward in Kayunga Town Council.
National PDM targets the 16.1million Ugandans (3.5 million households) living under subsistence money economyy.
 She was accompanied by the Minister of Local Government Hon, Raphael Magyezi who said that Kayunga District was the first District to provide funds to PDM households and said that also regional launches were to be done in the country.
Hon Magyezi called upon the coordinators of PDM at all levels and political leaders to mobilize the communities to benefit from the program in order to increase production and productivity in both on-farm and off-farm value chain activities for profit.
 Hon.Amos Lugolobi, the State Minister for Finance and Planning who is also the area member of Parliament for Ntenjeru North Constituency where the national launch was done thanked the Minister of Local Government for having selected Kayunga District as the first District to benefit from the PDM revolving funds     
In attendance was the National PDM Coordinator Hon. Dennis Galabuzi Ssozi , District Chairperson of Kayunga Mr. Muwonge Andrew, RDC Mr. Dumba Moses and his Deputy Cadre Mawerere Peter and the Chief Administrative Officer Mr. Batambuze Abdu  among others.
Updates

Opportunities

Partners