You are here
USHA DONATES MOTORCYCLES TO KAYUNGA DISTRICT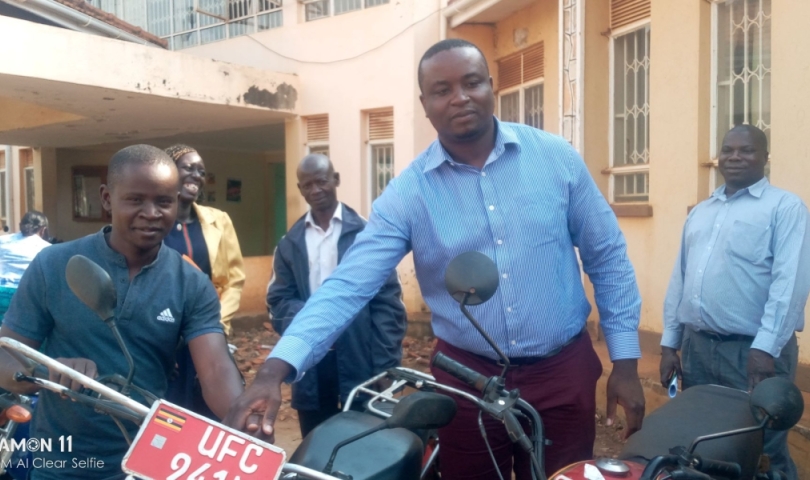 The Uganda Sanitation for Health (USHA) donated 3 motorcycles to Kayunga District to help Health Assistants in the monitoring of WASH activities and hygiene and sanitation in the district.
The motorcycles were handed over to the District Chairperson Mr. Muwonge Andrew who also handed them over to the Health Assistants of Kangulumira, Kitimbwa and Nazigo Sub counties where USHA is implementing its activities.

While handing over the motorcycles at the ceremony that was held at the District headquarters, Ntenjeru on 23rd August 2022, Mr. Muwonge warned the beneficiaries not to misuse the motorcycles but rather to use them for monitoring hygiene and sanitation in their sub counties.
"It is our hope that these motorcycles will assist the movement of health assistants in providing the much-needed awareness creation services to the communities about the importance of improved sanitation in their homes '' He. said.

He thanked USHA for the motorcycles it had provided to the District and also the support it was according to the District that had led to improved hygiene and sanitation in both schools and homes.
Mr.Maseruka Umaru, USHA central regional Manager, noted that the motorcycle will provide better mobility and enable faster and earlier access to households and that they had been provided to the District to support hygiene and sanitation in schools and to help in monitoring of WASH activities in the District.

USHA is implementing activities geared towards improved hygiene and sanitation in the District whereby it has constructed pit latrines, provided hand washing facilities and water sources to schools, provided motorcycles, computer equipment to the District for use in collection and storage of data related to hygiene and sanitation.
It is also working with the communities in ensuring that they improve on hygiene and sanitation in their homes.
Updates

Opportunities

Partners