You are here
STATE HOUSE CONTROLLER PASSES OUT 203 GRADUANDS AT MENGO ZOANL INDUSTRIAL HUM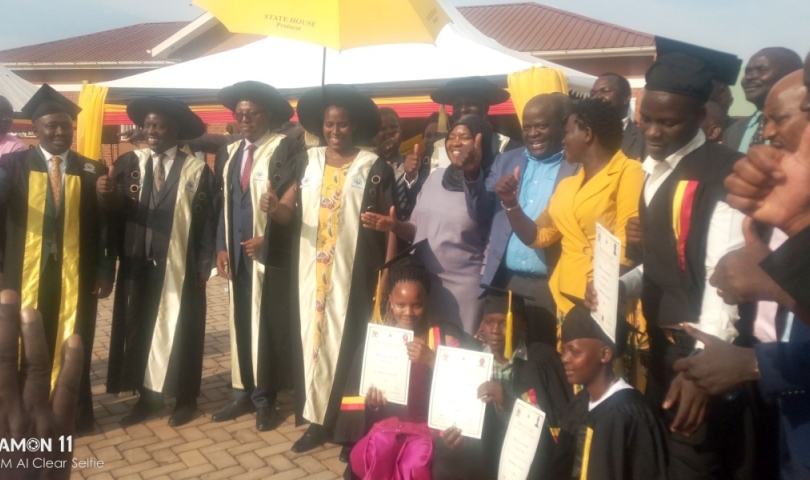 The State House Comptroller, Ms. Jane Barekye has today passed on 203 graduates at the Mengo zonal Industrial hub in Kayunga District which is one of the 19 industrial hubs that were established country wide by State house to offer skills freely to the youth.
While presiding over the graduation ceremony, Ms Barekye has requested the parents of the graduands to support their children in lighting the candle of the Industrial hub through putting into practice the skills acquired from the hub through creating their own jobs.
She has said that the industrial hubs were established to reduce on the unemployment among the youth by offering free skills to them that will enable them to create jobs for themselves and generate income for their households.
Ms. Barekye was passing out 204 students who graduated at the Mengo Zonal Industrial Hub after completing a five months skills development training in the different vocational disciplines of Carpentry and joinery, hairdressing, tailoring and welding which training has been offered freely by the government of Uganda.
The Chairperson of  Mengo Zonal Industrial hub, who is also, the CAO of Kayunga District Mr. Batambuze Abdu requested State house to increase on the number of students in the next in-take in the industrial hub and also to increase on the number of courses offered from four to ten as per the earlier plan and the State House comptroller said that they are planning to venture into other programs like value addition whereby farmers will be enabled t acquire more skills.asked them to be patient because State House has got other industrial hubs across the country, they facilitate yet the funds are still limited
Other dignitaries present at the event were; Hon. Kirabo Female Youth Member of Parliament for Central region, , Mr. Naamara Anthony, the Commissioner Local Government,  Eng Raymond Kamugisha, the Director of Presidential Projects & Industrial Hubs, Mr. Opiyo Christopher Ateker, the District Chairperson Muwonge Andrew,RDC for Kayunga Hajji Ddumba Moses, CAOs, RDCs, District Chairpersons, Youth Chairpersons from all the eleven(11) Districts from Mengo zonal region among others.
Updates

Opportunities

Partners