You are here
LAUNCHING OF THE NILE ENGLISH BOOK AT NAKYESA BRIGHT PRIMARY SCHOOL IN KAYUNGA DISTRICT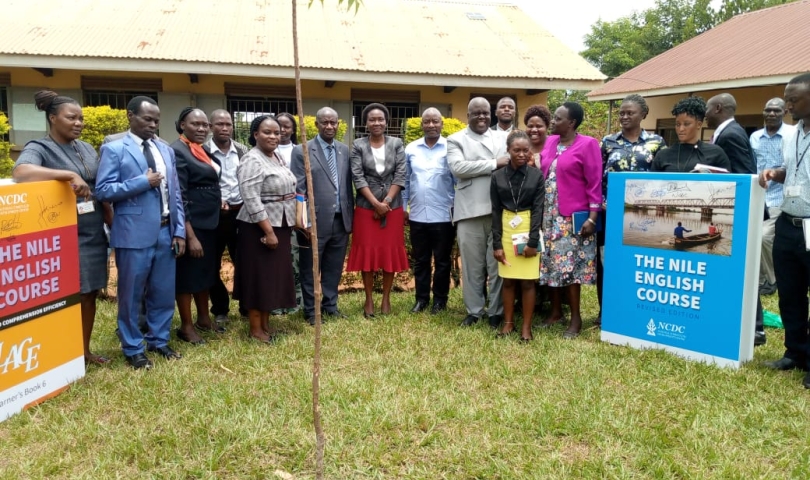 The Permanent Secretary Ministry of Education and Sports Mrs Lamaro Betty together with Director National Curriculum Development Centre and CEO Vision Group launched the revised Edition of the Nile English Course Book for Primary six at Nakyesa Bright Primary school in Kayunga District.
The District team was represented by the RDC, DEO.
The DEO Mr Mubale Dan thanked government for funding the project. We have registered a tremendous improvement in the education sector and appealed to government to also consider the transitional classes like Primary four.
He represented the Chief Administrative officer at the function.
The RDC thanked the National curriculum Development centre for pioneering UPE and successfully revising the Nile English Course Book which is being launched today.
The Director NCDC said that the revised book will impact on the literature level in the country by improving on the grammar, literacy and speaking.
The CEO Vision Group said that they cover 53% of the media coverage in Uganda and thanked the Director NCDC for the opportunity of working with them.
She pledged to produce quality materials for as long as NCDC gives them the opportunity.
The Chief Guest was glad to officiate at the launch. She thanked Vision Group for ensuring quality access to reading materials to Ugandans. She further appealed to the District Education Officer to encourage teachers and learners to make use of the book.
Updates

Opportunities

Partners