You are here
KAYUNGA LAUNCHES UGIFT MICROSCALE IRRIGATION PROGRAM .
Thursday, 10 September 2020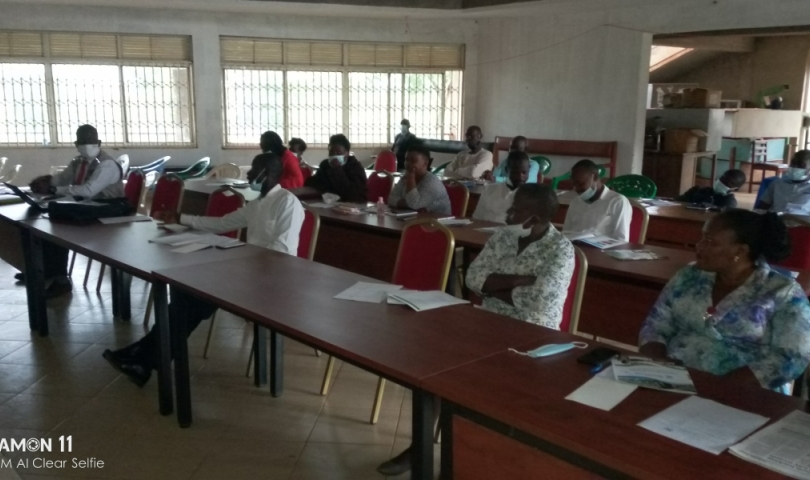 Kayunga district Local Government has today launched the UGIFT small-scale irrigation program in the district, as part of the government efforts towards improving agricultural productivity through provision of water for irrigation in the district.
Kayunga district is among the 40 districts under the first phase that are piloting this program in the country.
The program is being funded by the Government of Uganda with support from World Bank with the Ministry of Agriculture, Animal Industry and Fisheries as the lead ministry, coordinated by its Department of Agricultural Infrastructure Mechanization and Water for Agricultural Production (DAIMWAP) and implemented by the Production and Marketing department at the District level.
Dr Mugabi David, the District Production Officer, has said that this program is aiming at supporting individual subsistence farmers to purchase good quality and affordable solar powered micro-irrigation technology which will enable them to practice modern agriculture and improve their farm productivity and standard of living.
He has further added that, irrigation will help farmers to grow crops all year round with or without rain because they will be planting and watering their crops even during the dry season whereby in the long run they will have plenty of food for both eating and selling to generate more income.
According to the District Agricultural Officer Ms. Bulya Ann, the micro-scale irrigation program will help farmers to buy irrigation equipments at a low cost. The Government of Uganda is to share the cost of the equipment with the farmers whereby it will pay between 25% and 75% of the total cost of the irrigation equipment depending on the farm situation and the type of irrigation equipment chosen by the farmer.
She has also clarified that, the cost of the equipment will depend on the closeness of the water source to the land for irrigation, terrain of the land, soil suitability, evidence as to whether the farmer has access to the land for at least one year, eligibility for contribution to the cost of the irrigation equipment, and willingness to grow and sell high value crops like horticulture crops and coffee for sell and that the size of the land to be irrigated must not exceed 2.5 acres.
In her closing remarks, the Resident District Commissioner-Mrs Mwanamoiza Margret Kikomeko, was grateful to the government for the project. She noted that the farmers of Kayunga district will no longer wait for rains to plant crops, when the irrigation equipments are provided they will ease farmers from the burden of water access for agriculture production, especially during the dry spells that have become longer as a result of climate change. 
She has argued the would-be beneficiaries to guard the project.
Updates

Opportunities

Partners