You are here
KAYUNGA DISTRICT HOLDS BUDGET CONFERENCE FOR 2019/ 2020- UNVEILS PLANS FOR THE NEXT FY 2020/21
Thursday, 31 October 2019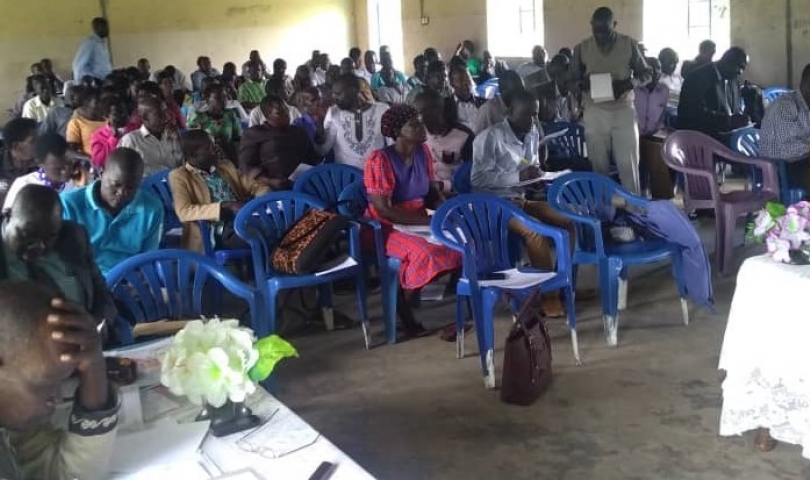 KAYUNGA DISTRICT HOLDS BUDGET CONFERENCE- UNVEILS PLANS FOR FY 2020/21
Kayunga District Local Government has today held its budget conference with a call to stakeholders to interest themselves in ensuring that the priorities being presented to them for implementation by both the District and Sub counties in the coming Financial Year 2020/ 2021 which are of public interest to their communities.
This call was made by the Chief Administrative Officer Mr. Ashaba Allan Ganafa while making his remarks during the budget conference meeting at the District headquarters at Ntenjeru.
While opening the meeting, the District Chairperson Mr. Serwanga William Tom, has said that all the plans made focus towards the realization the National Development Plan, District Development Plan 2020, NRM manifesto directives, vision 2040 and focusing on poverty alleviation among the residents of Kayunga District.
He added that, it's imperative to hold such budget conferences since its one of the ways the District may benefit from its development partners by harnessing the advantages and skills that may influence the District budget execution thus eliminating duplication of services.
Participants raised a concern about under staffing prevailing in health and school, which the Chief Administrative Officer said was beyond their control as the district wage bill has been static for some period and said that they can only replace staff who have absconded, transferred services to other areas and the deceased.
He added that, the District cannot recruit staff without getting authority from the Ministries of Public Service and Finance, Planning and Economic Development and reported that, the district had received funding for recruitment of more staff for Bukamba Health Centre II because it has been elevated from H.C.II to H.C.III.
In response to the concern of rampant absenteeism in health facilities, he observed that he had never received a report on staff absenteeism in health facilities from the sub county authorities which he attributed to the I do not care attitude by the sub county stakeholders and called upon them to interest themselves in routine monitoring and supervision of staff in government institutions and to always report about incidences of staff absenteeism to his office since they were nearer to these institutions than the district.
Participants at the conference raised issues and proposed priorities which would guide planning and finalization of the FY 2020/2021 District Budget.
PROPOSED PRIORITIES FOR 2020/2021
HEALTH
• Mass distribution of bilharzia drugs
• Provision of maternal and child health care, malaria and TB services
• Distribution of essential medicines and health supplies to health facilities
• Promotion of sanitation and hygiene
• Upgrading of Kakiika H.C.II to H.C.III
• Construction of a staff house at Wabwoko H.C.III
• Completion of the rehabilitation of Bbaale theatre
PRODUCTION
• Support farmer groups engaged in 4-acre model approach.
• Support groups engaged in coffee processing
• Support dairy farmers
• Procure solar powered water pump for Kawongo fishing community water project
• Promote village agent model approach
• Strengthen extension service delivery in the community
EDUCATION
• Construction of a staff house at Busungire RC and Wunga CU Primary School
• Construction of classroom blocks at Busaana CU, Bugoma CU and Nkokonjeru RC
• Completion of classroom blocks at Wabunyonyi CU.
• Construction of emptiable pit latrines at Namirembe Public, Kyayaye RC, Busaana CU, Kitimbwa CU, Soona Kyerima and Lwabyata Parents Primary schools.
• Renovation of classroom blocks at Namatogonya, Nakaziba, Bugatto RC and Namulaba Umea primary schools.
• Construction of Musitwa Seed School.
WORKS AND TECHNICAL SERVICES
• Mechanized maintenance of roads;
1. Kiyange- Misanga rd (8km)
2. Kyerima – Nongo rd (5.1km)
3. Kitwe- Bugoma-Balisanga rd ( 12km)
4. Galiraya- Nakatuli- Bbalae rd (34.5)
5. Busaana- Namirembe- Bisaka rd ( swamp) drainage repairs (10.5km)
6. Kalagala- Maligita rd (5km)
7. Kangulumira- Wabirongo- Mayaga rd (14km)
8. Kanjuki- Kyanya rd (11.5km)
• Rehabilitation of Soona-Kitabazi rd (4km)
• Maintenance of road equipments
• Repair of main road
• Maintenance of district roads
WATER SECTOR
• Construction of a public latrine at Misanga landing site
• Drilling & construction of 8 boreholes
• Rehabilitation of functional boreholes.
CRITICAL ISSUES RAISED
• Verification and assessment of businesses in the mother sub counties which gave birth to new town councils.
• Lack of a communication mode between the medical workers and people with disabilities
• Understaffing in health facilities and schools
• Absenteeism and early departure of staff in health facilities
• Inadequate transport for referral of patients in Bbaale and Kangulumira H.C. IVs
• Routine supervision and monitoring of staff attendance on duty
Updates

Opportunities

Partners