You are here
GOVERNMENT OPENS FISHING ACTIVITIES IN KAYUNGA DISTRICT LANDING SITES ON LAKE KYOGA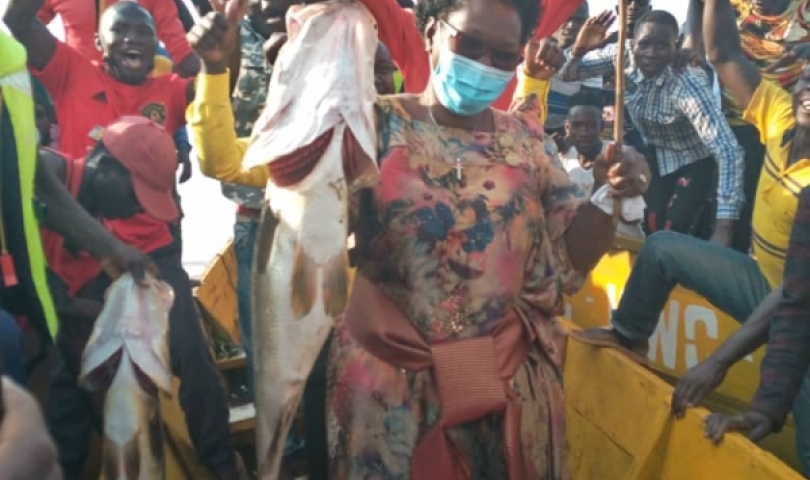 The Ministry of Agriculture, Animal Industry and Fisheries has officially opened the gazette landing sites on L. Kyoga in Kayunga District for fishing activities to start.
State minister for Fisheries Hon Andoa Hellen yesterday officiated at the ceremony, whereby she officially opened fishing activities in Kayunga District at Kawongo landing site in Galiraya Sub county, Kayunga district and argued fishing communities to desist from illegal light fishing.
The Government last year in December 2019 closed the lake as part of measures to regenerate the depleting fish stocks on Lake Kyoga.
Hon Andoa dismissed allegations that H.E the President of Uganda had sold the lake to rich private investors and said that his aim was to help to reduce excessive pressure and overexploitation of fish stock in L.Kyoga .
Addressing the fishermen at Ntimba Primary School, Hon Andoa directed that before foreigners are given fishing licenses, the local communities in Kayunga should be the first to be considered, saying that President Museveni wanted to see that 60% of the local community where the lake is located must have access to the lake. She said.
She added that each district had been allocated a unique colour whereby Kayunga boats were allocated yellow colour and that each boat has been allocated   number plate and unique security number for easy identification by the local communities and that boats from other neighboring visiting the district will only be given   two hours to leave the district
The Resident District Commissioner Mrs Margret Kikomeko Mwanamoiza , warned fishermen against engaging in illegal fishing saying perpetrators will be severely dealt with.
"The onus is on all to safeguard the lake for posterity. You need to be law abiding to avoid all forms of illegal, unregulated and unreported fishing. She said.
The Minister clearly stated that although the ban has been lifted, no taxes should be charged from the fishermen by government tax collection authorities for the first 6 months from the date of opening the lake.
The District Chairperson Mr Serwanga Tom William advised the fishermen to guard the lake jealously and use it to improve on their livelihood.
The District Fisheries Officer requested the Minister to also gazette other landing sites in the district and to provide more fish fingerlings to Kayunga to enable the district to develop the apiculture business.
Updates

Opportunities

Partners