You are here
DRIP MICRO SCALE IRRIGATION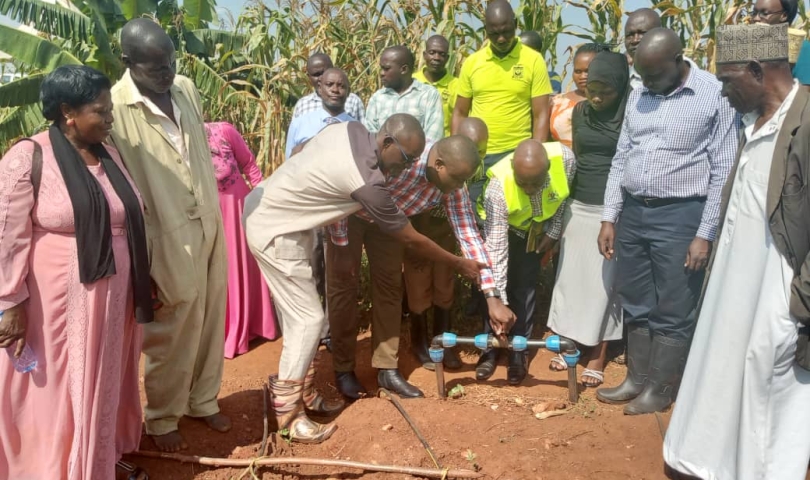 A Team of District leaders and Technical staffs commissioned the UGIFT micro scale irrigation programme at Musiitwa Seed School in Nazigo Subcounty. The RDC presided over the commissioning and was impressed by the project. He urged Head teachers and LC3 Chairperson to use the scheme as a demonstration garden to sensitise community and adopt irrigation. This approach will help people out of poverty since Agriculture is the backbone of the country.
The District Agricultural Officer Mrs Ann Bulya emphasised that the District decided to establish Demonstration gardens in all sub counties.
This is a project for small scale farmers with two and half acres of land with a nearby water source.
She emphasised that the irrigation program enables us to cultivate throughout the year thus improving food and income generation. She requested the Head teacher to always enrol for agricultural practical lessons and form agricultural clubs that will prompt pupils to love agriculture since it is the source of livelihood.
The Chief Administrative officer instructed the Head teacher to hand over the certificate of title to the District in the names of the School if they are to benefit from government support.
The government will withdraw teachers and funds if u fail to adhere to my guidance. CAO further urged the Head teacher to secure land for expansion since Hon Amos Lugolobi promised funds to the school for expansion. He advised the Technical team to give demonstration gardens to institutions since they are neutral to both learners and communities.
The District Chairperson LCV emphasised on the issue of handing over the certificate of title to the District.
He cautioned religious institutions against grabbing government facilities and urged community to engage in the use of irrigation to increase income and eliminate poverty.
Updates

Opportunities

Partners