You are here
DISTRICT CHAIRPERSON DONATES FOOD RELIEF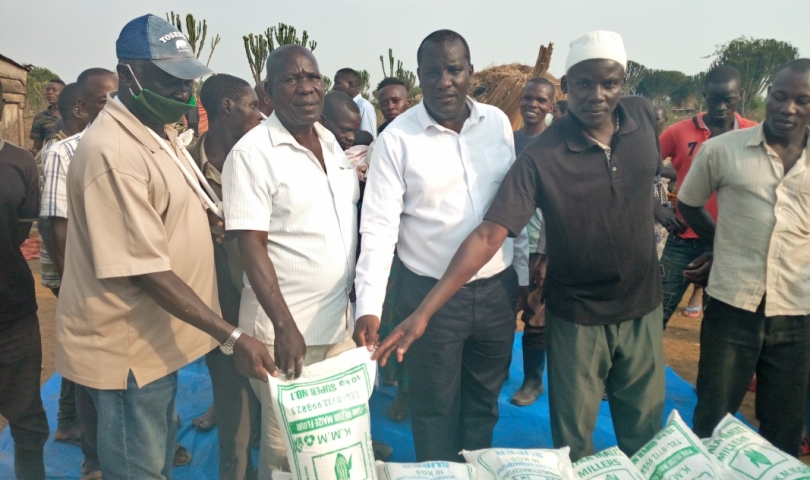 The District chairperson Mr Sserwanga Tom William in partnership with the National Fellowship of Born Again churches in Kayunga District have donated food relief to the communities from the landing sites of Kambatane, Kyedicho, Bweyale A & B , Kawongo, Ntimba villlages in Galiraya sub county , Kayunga district.
While offering the donation, the District chairperson noted that the flooding of L.Kyoga and R.Nile   left a number of people homeless and hungry  and in dire need who must be helped out by those who still can.
"When I received information that the floods had destroyed houses and food gardens of my people at the landing site, I started lobbying  for support from my friends and I was able to receive some food relief from our dear friends of the born again churches in Kayunga District,  and they have able to avail us with food worth 2.5 tones of maize posho," Serwanga said.
He appealed to other people to come out and stand with those in need saying that many people at the landing sites in the district are now homeless and almost starving because they have nothing to eat because their food gardens had been destroyed by the floods.  
Pastor Patrick Mbuya who represented the National Fellowship of born-again churches in the district said that they have donated to save lives by providing food relief and promised that they will continue donating to vulnerable people throughout the district especially those who have been affected by floods.
The Sub county Chairperson, Hajji Musana Jamada Kakinda applauded the District Chairperson for the continued partnership with the the National Fellowship of Born-Again churches through which he has been able to get food relief for the people in Galiraya sub county.
While receiving the relief on behalf of the communities at the different landing sites, L.C.I Chairpersons of the benefiting villages  appreciated the district  for being considerate to their people most of whom were finding it hard to feed their families , because they are no longer earning which is as a result of the ban of fishing activities on L.Kyoga and the floods.
Updates

Opportunities

Partners